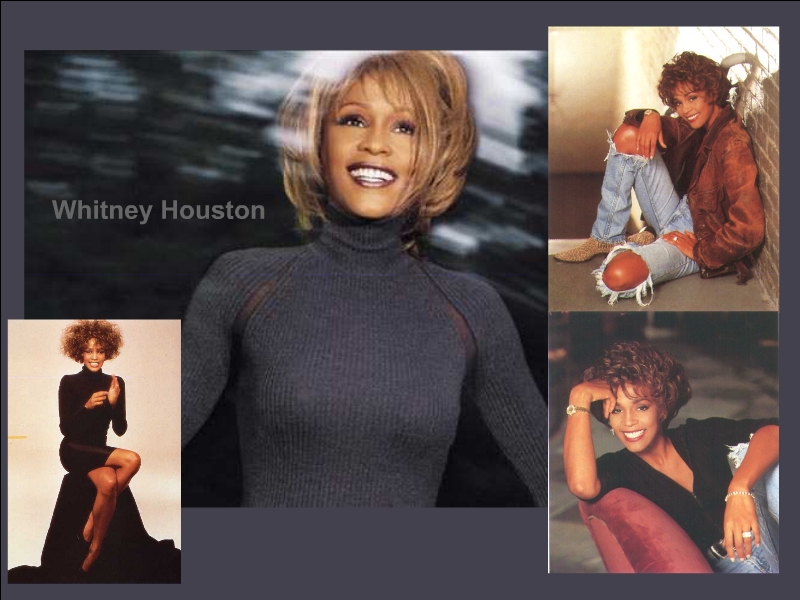 Whitney Elizabeth Houston
Born : 9th August 1963
Parents : John & Cissy Houston
Place of Birth: Newark, New Jersey
Height: 5' 8"
Married to : Bobby Brown
Influences : Dionne Warwick(cousin), Aretha Franklin(Godmother), Clive davis (Head of Arista)
First Solo Gig : Age 11, at the New Hope Baptist Church, Newark , New Jersey
First Number 1: "Saving All My Love For You"
Favorite Chore : Vacuuming
Favorite Colour : Lavender
Fave Cereal: Fruity Pebbles
Fave Subject: History
Fave Actress: Jessica Lange
Fave Actor: Robert DeNiro
Whitney Houston was born on 9th August 1963 in Newark , New Jersey , to the manager of a music management company and Cissy, a gospel singer. (She now lives on an million estate in Mendham, N.J.) Music was everywhere - Aretha Franklin is her godmother , she knows Roberta Flack, and her older cousin is Dionne Warwick.
While growing up Whitney always wanted to be a singer but when she told her mother, she was asked by Cissy if she wanted to sing or be in show business. Isn't it the same thing? Whitney asked. No, was the reply, the business is "low-down". Cissy Houston's experience of that business helped shield her daughter from having a bad start. She advised Whitney not to take the early offers that were made to her but to wait for the right deal. Whitney would watch and hear her mother sing in the New Hope Baptist church , where she made her own public performances in the choir. As a teenager she was a back-up singer to Chaka Khan . A combination of her striking looks and soaring voice won her contracts as a model-for the covers covers of US magazines Seventeen and Glamour. However unlike other young stars like Madonna, she did not do anything racy or nude. She also worked on her voice and took dancing lessons. Nippy was Whitney's nickname as she grew up and it is the name she's used for her management company, Nippy Inc.
Whitney was signed to Arista Records by Clive Davis in 1983. When Houston first hit the music scene, Arista Records founder Clive Davis introduced the young diva to the world on the Merv Griffin show for her first major television performance. Davis could see that Houston had what stars are made of when he introduced by her saying, "For the next generation, there's a singer that combines the fiery gospel of Aretha Franklin with the stunning elegance and the beauty and lyric phrasing of Lena Horne, and she is Whitney Houston." It was Whitney's first major television gig . It would not be her last. She wowed the audience that night, it would not be the last of that , either. I quote Wyclef Jean saying " Every girl wanted to SOUND like Whitney, LOOK like Whitney, DRESS like Whitney", Unquote.
Her self-titled debut album, Whitney Houston, released in 1985, yielded a string of hits including "You Give Good Love" and three consecutive #1 singles, "Saving All My Love For You," "How Will I Know," and a song that has become a veritable anthem, "The Greatest Love of All." Not only did the album establish her as an important new recording artist, but it went on to sell over 13 million copies in the U.S. adding to the total of 23 million copies worldwide. . This LP set the record as the biggest selling debut album by a solo artist.
She was elegant , professional , versatile and beautiful . Critics , however found her material too safe -she was dubbed "Prom Queen of Soul"
With the highly anticipated release of her second album Whitney in 1987, she made history as the first female artist to enter the Billboard album charts at #1. Whitney featured a new stream of #1 chart-toppers, "I Wanna Dance With Somebody (Who Loves Me)," "Didn't We Almost Have It All," "So Emotional," and "Where Do Broken Hearts Go" - this established Whitney as the only artist ever to have seven consecutive #1 hits, surpassing a record previously set by The Beatles and The Bee Gees. Her seven consecutive number 1 hits include
Saving All My Love For You
How Will I Know
The Greatest Love Of All
I Wanna Dance With Somebody (Who Love Me)
Didn't We Almost Have It All
So Emotional
Where Do Broken Hearts Go
Whitney's third powerhouse solo album I'm Your Baby Tonight, released in 1990, displayed her versatility on a new collection of tough rhythmic grooves, soulful ballads and up-tempo dance tracks. With back-to-back #1 hits for the title tune and "All the Man That I Need," followed by "Miracle" and "My Name Is Not Susan," sales records were set once again, as the album became an international multi-Platinum best-seller, to the tune of 12 million copies worldwide.
In the year 1998 , Whitney took to the road for the first time on 8 years , selling out and thrilling fans with a mix of new and vintage songs. Whitney's fourth studio album My Love Is Your Love, which she produced with Clive Davis, was released in November 1998, and is certified RIAA quadruple Platinum in the U.S., with global sales in excess of 10 million units. It was actually Whitney's seventh career album, coming after the 8-year period that brought the original motion picture soundtrack albums for The Bodyguard, Waiting To Exhale, and The Preacher's Wife. My Love Is Your Love found Whitney collaborating with some of pop and R&B's hottest producers. The result was a string of solid crossover hits: the two-time Grammy-nominated "Heartbreak Hotel" (featuring Faith Evans and Kelly Price, co-written and produced by the team of Soulshock and Karlin);the Grammy-winning "It's Not Right But It's Okay" (co-written and produced by Rodney Jerkins); "When You Believe" (a duet with Mariah Carey, from The Prince Of Egypt, written by Stephen Schwartz and produced by Babyface); the title tune "My Love Is Your Love" (written and produced by Wyclef Jean and Jerry "Wonder" Duplessis); and the final hit, "I Learned From the Best" (written by Diane Warren, produced and arranged by David Foster)..
As for the latest in the music news, My Love Is Your Love' has been certified quadruple platinum in the US by the RIAA, representing a unit shipment of four million copies. Whitney's US and Worldwide certifications now read as follows:
Whitney Houston 13 Million (us)(Diamond) 22 Million (worldwide)
Whitney 9 Million (us) 19 Million (worldwide)
I'm Your Baby Tonight 4 Million (us) 12 Million (worldwide)
The Bodyguard 17 Million(us) (Diamond) 33 Million (worldwide)
Waiting To Exhale 7 Million(us) 10 Million (worldwide)
The Preacher's Wife 3 Million (us) 5 Million (worldwide)
My Love Is Your Love 4 Million (us) 13 Million (worldwide)
Whitney's BestSelling Singles
"I Will Always Love You" (1992) 8.5 Million
"I Wanna Dance with Somebody" (1987) 4.2 Million
"Saving All My Love for You" (1985) 2.5 Million
"Exhale (Shoop Shoop)" 1995 2.2 Million
"Greatest Love of All" (1985) 2 Million
Whitney is tied in second place as the female artist with the highest certification level and will take first place in the first round of certifications for 'Whitney The Greatest Hits'. For 15 years Whitney Houston has been serenading fans with her soulful music that effortlessly tugs at your heart one minute and has you grooving the next. She recently celebrated her acclaimed career at Arista Records with the release of Whitney: The Greatest Hits, a greatest hits collection.
The world, and Whitney Houston fans in particular, were eagerly awaiting the long-promised Greatest Hits collection which was released on 16th May worldwide.. Several track-listings indicates that like the album with contain all the favourite ballads in their original versions, an extra CD with new and old remixes of the uptempo songs, three new duets and a previously unreleased song Fine. Internationally the album will be trumpeted by a duet with George Michael released on 6th June 2000. The second single in the US will be Could I Have This Kiss Forever with latin star, and son of Julio, Enrique Iglesias . Third duet is Same Script, Different Cast with Deborah Cox.
With 113,000,000 albums sold and 48,800,000 singles sold, Whitney Houston is one of the biggest selling artists of all time.
But her success knew know frontier-not on stage, not at the movies. The Bodyguard was the biggest selling movie soundtrack of all time, selling million , and Whitney's cover of the Dolly Porton hit became one of those songs that provided soundtracks around the world -from Haiti to Transylvania, Hong Kong to Johannesburg , it's always there. The script for The Bodyguard had sat around for twenty five years until Kevin Costner decided to make it. He immediately wanted Whitney Houston to play the leading female but while Whitney liked the script, she wasn't sure if she was capable of the role. Costner convinced her to play the part and when released in 1992 the film became a box-office smash.
JOHANNESBURG is especially apt. One of the best Whitney stories came after she joined other stars to record the "Free Nelson Mandela" a concert at Wembley Stadium. The yarn goes that the imprisoned Mandela was eventually shown a video of the event , credited with speeding his release. When asked for his reaction, the old flirt replied : "I Would Love To Meet Whitney Houston." Mandela's wish was granted when Whitney sang for the South African president at a White House dinner held in his honour.
Whitney married bad-boy of R&B and ex-New Edition hitmaker, Bobby Brown, on July 18, 1992, the media instantly predicted that the marriage wouldn't last and have been quick to jump on every whisper of disharmony and argument as sign of an imminent break-up. However the union seems to be lasting and the couple are seen regularly out in public. Bobbi Kristina Brown , a.k.a. Bobbi Kris was born on March 4th1993. She had been first attracted by Bobby Brown's unpleasant manner-"I Always Get Curious When Someone Doesn't Like Me," she added. Rumors of his continued womanizing began almost the moment they had walked back down the aisle ; those of beating followed later. Perhaps , what is keeping her marriage at place and why she keeps living with the man that keeps hurting her is because of her religion values, Marry and stick with the man for the rest of your life. After all this, what has Houston said? "It hasn't put a strain on our marriage. What God has put together, let no man put asunder." This was also the moment of her break into cinema - The Bodyguard, Waiting To Exhale and The Preachers Wife opposite Denzel Washington , which took her back to her Gospel roots.
Waiting To Exhale contains for me, Whitney Houston's best performance in a movie as the professional woman who with three others is not having much luck with their love-life. Whitney plays Savannah Jackson. The soundtrack features three Whitney songs: Exhale (Shoop Shoop), a no 11 UK hit, Why Does It Hurt So Bad and Count On Me, a duet with CeCe Winans a no 12 UK hit.
Released in 1996, The Preacher's Wife is a gentle romantic comedy, starring Denzel Washington as an angel who develops a crush on the wife of Reverend Henry Biggs, played by Courtney B. Vance. The preacher is a workaholic who is neglecting his wife, and the angel has been sent to help. Whitney, as the wife, gives a good performance but this updated version of the 1947 classic, The Bishop's Wife, has perhaps too much to live up too. The best thing about the new version is the soundtrack, which gives Whitney a chance to connect with her Gospel roots. While the film didn't fare too well, the album went on to become the biggest gospel album of all time and spawned two hit singles in the UK, Step by Step (no 13, December 1996) and I Believe In You And Me (no 16, March 1997).
In November 1997 ABC in the USA aired what was to be the TV event of the year, the first showing of the made-for-TV special, "Cinderella", produced by Brownhouse, the production company created by Whitney and husband Bobby Brown. The version of the Rodgers and Hammersmith musical starred Brandy as Cinderella with Whitney Houston cast as the Fairy Godmother. The sets and costumes were visually stunning, and while critics wondered if the dialogue between songs was a little dull, they also admitted that the songs were extremely well done .The production was nominated for several Emmys and also starred Bernadette Peters and Whoopi Goldberg. More Up-Coming Movies this century are expected to see Whitney starring and at the same time producing these movies.
Whitney Houston's career has resulted in many international awards. She achieved her first of six career Grammy awards for "Saving All My Love For You" (from her self-titled debut album), which won the Best Female Pop Vocal award for 1985, an award Whitney duplicated two years later for "I Wanna Dance With Somebody (Who Loves Me)." At the 1993 Grammy awards, The Bodyguard won Album Of the Year while "I Will Always Love You" netted Record Of the Year and Whitney's third Best Female Pop Vocal award. Whitney took home her sixth career Grammy, and her first R&B award, at the 42nd annual Grammy ceremonies on February 23, 2000, when "It's Not Right But It's Okay" won for Best Female R&B Vocal.
She has earned an impressive list of entertainment industry awards also includes 21 American Music Awards (the most for any female recording artist), 15 Billboard Music Awards, 11 NAACP Image Awards, six People's Choice Awards, seven "Soul Train" Music Awards, five World Music Awards, two Emmy Awards, the MTV Music Video award and MTV Movie Award, a Cable ACE Award, the Dove (Gospel Music Association) Award, the Blockbuster Entertainment Award, and the Nickelodeon Kids Choice award. In November 1995, Whitney was inducted into the "Soul Train" Hall of Fame. In 1996, she was inducted into the Nickelodeon Kids Choice Hall of Fame and BET (Black Entertainment Television) Walk of Fame. In February 1998, "Soul Train" bestowed its prestigious Quincy Jones Career Achievement Award upon Whitney; and in March 2000, she was honored with the "Soul Train" Music Award as Female Artist Of the Decade.
Being all that famous and being the singer who seemed to have everything, she has not forgotten the outer world who need her help . Whitney has been a volunteer for many charity organizations and taken part in many fund-raising events over the years. She's contributed to the United Negro College Fund, the Children's Diabetes Fund, St. Jude's Children's Hospital, and several AIDS-related organizations, and she established the Whitney Houston Foundation for Children, a nonprofit organization whose work assists homeless children and children with cancer and AIDS.
Lastly, I would just like to end by saying that , She was the singer who seemed to have everything but of late - behind the scenes - things seem to be falling apart for diva , Whitney Houston. I am not going to fight for her right by giving all the facts that I have collected to defend her as it is of no use. However, let us pray that whatever it may be, the Lord Jesus Christ will be there to guide every step she takes.