THE BODYGUARD featured Whitney in her first motion picture role, costarring with Oscar-winning actor,director Kevin Costner and broke box-office records worldwide. Whitney received rave notices from critics everywhere, who praised her work in the film opening up new horizons for her. sensational. This led to other main movie roles as such "Waiting to Exhale", "THe Preachers Wife" and Disney's "Cinderella".

NEW MOVIE PROJECTS
Anything For You features Whitney Houston is with Will Smith.It is a romantic comedy about a couple who split up when Will's character no longer feels commited to the relationship. Months later, he returns realising the mistake of his ways and in order to win his lady back (Whitney), he must perform a number of tasks she sets for him.GO GIRL!

· Another Movie Role? actor Dustin Hoffman talked briefly with Access Hollywood about a new movie in development. The movie is described as a thriller about a retired criminal who finds he has a dangerous illness. He then meets another person with the same illness and he said "it's kind of a love story." As for who would be his co-star, he said, "I don't know for sure. I know they're talking to Whitney Houston but I'm not sure."



· "Runaway Bride" director Garry Marshall will take the helm of "The Princess Diaries" for Walt Disney Pictures. Based on a novel by Meg Cabot, the project focuses on a rebellious 16-year old New Yorker who discovers she is the princess of a small European country. Shooting will begin in early September.

Whitney Houston is serving as a producer via her Brownhouse Production House. Disney made the deal for Cabot's book last summer after Houston and her production partner Debra Chase brought the project to the studio.

It tells the story of a precocious teen who is a reluctant participant in a fairy
Tale existence when her mother confesses that the daughter is the result of one-night fling in Italy with a member of a royal family. As the only heir to the throne, she's pressed into taking princess lessons from her matronly grandmother .The book is the first of a multibook series for the young adult audience that will be published later this year by HarperCollins.

For Brownhouse, it's the second Disney-based film about a princess, after Houston and Chase served as executive producers of "Rodgers & Hammerstein's Cinderella," in which Houston starred for ABC's "Wonderful World of Disney" franchise.

· 'SPARKLE'

NEW YORK -- Warner Bros. has set a remake of the 1976 film "Sparkle" with singer-actress Aaliyah poised to play the title role originated by Irene Cara.

"Sparkle" was set up by Whitney Houston and Debra Martin Chase's BrownHouse Production. Aaliyah made her film debut alongside Jet Li in WB's Joel Silver-produced actioner "Romeo Must Die." That film has grossed more than million and spawned a strong selling soundtrack featuring Aaliyah's song "Try
Again."Powered by a Curtis Mayfield soundtrack and vocals by Cara and Lonette McKee, the original "Sparkle" chronicled the rise and fall of a group of singing sisters during the 1960s. The story closely paralleled that of Diana Ross and the Supremes. The film was directed by Sam O'Steen and scripted by Joel Schumacher.

"Whitney and I always loved the movie, and felt that the music business is so pervasive, it's surprising there hasn't been a contemporary look at what happens behind the scenes," Chase said. "And the studio wanted to be in the Aaliyah business."

E. Lynn Harris, making his screenwriting debut, has been signed to pen the contemporized redo. Harris calls the original "an African-American classic."The remake will have an entirely new soundtrack. Aaliyah has been topping the charts since making her recording debut at age 14 in 1994 with the platinum-selling album "Age Ain't Nothing But A Number."

It's the second recent screen development for BrownHouse, which will produce "The Princess Diaries," a comedy greenlit by Walt Disney Pictures with Garry Marshall directing. Houston and Chase will produce the new "Sparkle," and Lori Lakin will be associate producer. The project will be shepherded by WB exec Kevin McCormick.

Aaliyah is repped by CAA and managed by Diane and Michael Haughton; Harris is repped by Irv Schwartz of AMG/Renaissance and John Hawkins & Associates; and BrownHouse is repped by William Morris and attorney Frederick Gaines.



· "The Cheetah Girls." The characters include five hip New York City divas-in-training who wear cheetah and leopard prints and are set on becoming stars.

Gregory's first few novels about the Cheetah Girls were so well-received that there are plans to make the storybook characters part of a television series. The books, geared to children ages 8-12, are published bimonthly by Jump At The Sun, Disney Publishing Worldwide/Hyperion Books for Children. The books are .99 each.

The Disney Channel and singer Whitney Houston's Brownhouse Productions will co-produce the novel series, and the producers are planning a nationwide search for five young women to play the characters created by Gregory.


Lastly, the name that suits her the most.'Diva' is the French movie title based on the year 1981.It is about and Opera singer who refuses to be recorded. A fan manages to make a recording of his idol's performance only for the tape to be switched with a murder confession. Whitney Houston is to take the lead role in this movie and will co produce it through Brownhouse Productions with Will Smith's company, Overbrook.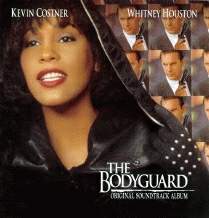 The Bodyguard
Starring Kevin Costner, Whitney Houston,Gary Kemp, Bill Cobbs, Ralph Waite.
Directed By Mick Jackson.